Moroccan date sweets
This year, April 13th is the beginning of the Ramadan fast. For the occasion we decided, for a few moments, to make your taste buds travel to the East with this recipe of protein date sweets. These little treats, filled with a date puree, cinnamon powder, almond and orange flavored, are ideal to accompany tea or coffee. Amaze all your guests with this gourmet and fragrant note.
Mabrouk Ramadan!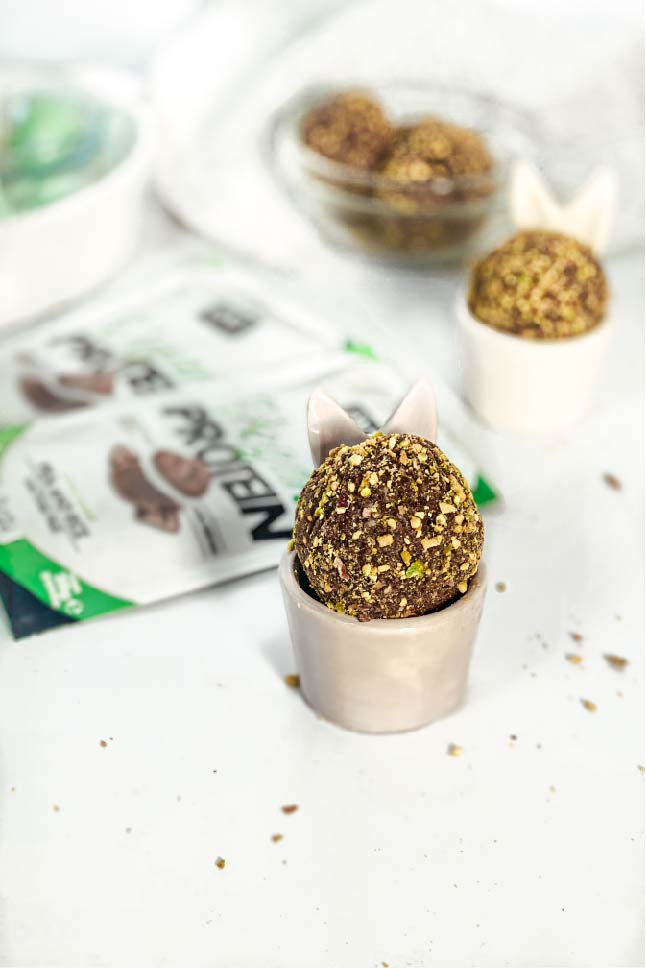 1 cup Pistachios
1/2 cup Almonds
350 g Pitted dates
1 tsp Orange zest
1/2 tsp Cinnamon
1/4 tsp Cardamom
40 g Vegan protein
1 tsp BCAA 8500 powder
Step 1: In a blender, blend half the pistachios until they form a smooth powder, then set aside.

Step 2: In the same blender, blend the almonds and remaining pistachios until they form a smooth powder.

Step 3: Add the remaining ingredients and blend until the nuts are well distributed throughout the dates.

Step 4: Add the protein powder and mix again.

Step 5: Take about a tablespoon of the date mixture and roll it into a ball with your hands.

Step 6: Place the ball in the pistachio powder and roll it to cover it.

Step 7: Repeat with remaining date mixture.

Step 8: Mabrouk Ramadan!