Protein lava cake
Molten chocolate lava cakes are rich and fudgy with a classic gooey chocolate center that flows out like lava. So simple and easy to make on this Valentines day.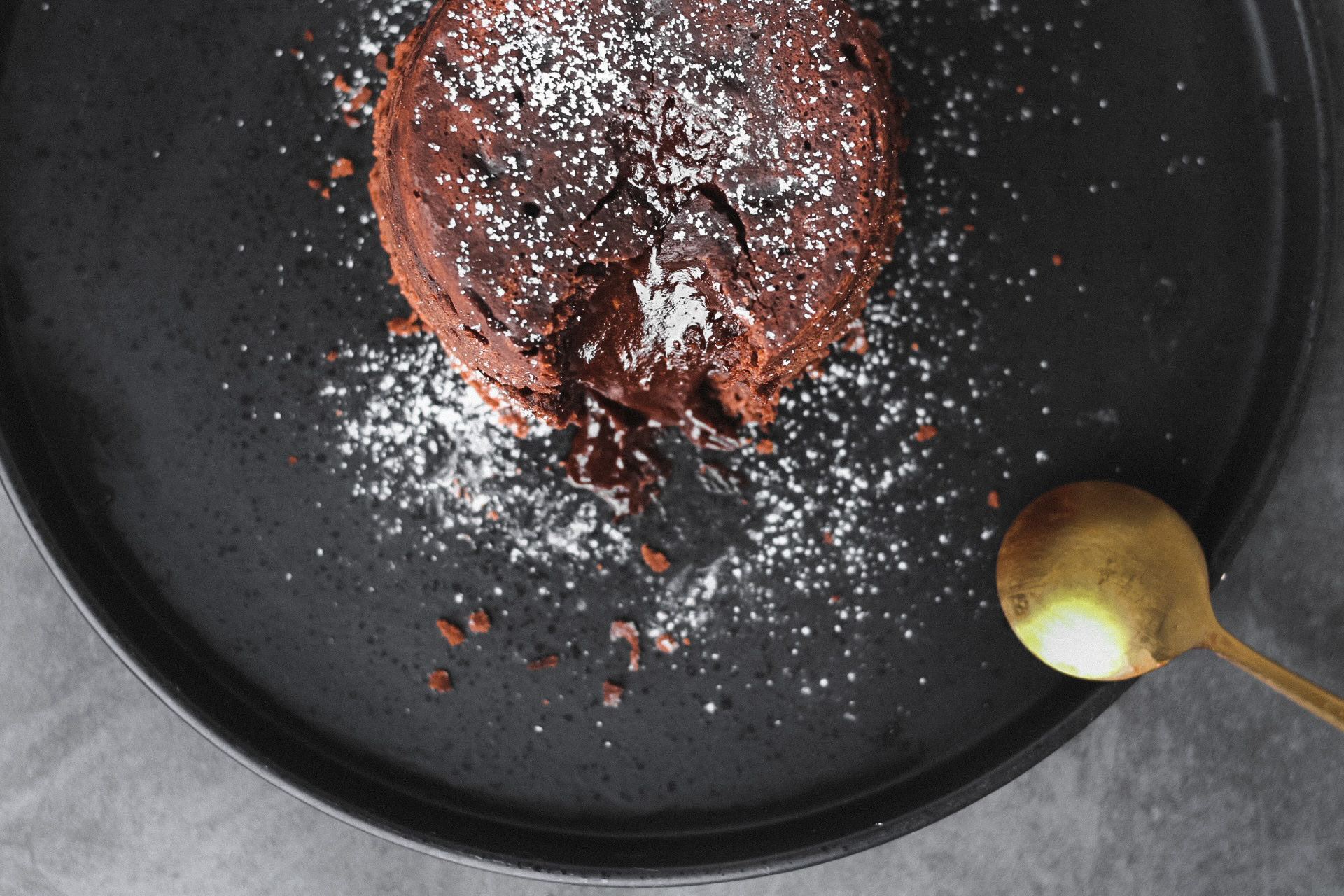 64 g Unsalted butter, cut into ½ inch cubes
15 g Light Digest Whey protein - Belgian chocolate
2 Large eggs
2 Large egg yolks
1,42 g Vanilla extract
3 tbsp. All-purpose flour
32 g Confectioners' sugar
180 g Sweet chocolate
0,43 g Salt
(32 g = 1/4 cup)
(64 g = 1/2 cup)
(85 g = 2/3 cup)
(96 g = 3/4 cup)
(128 g = 1 cup)
(0.43 g = 1/8 teaspoon)
(1.42 g = 1/4 teaspoon)
(2.84 g = 1/2 teaspoon)
Step 1: Preheat oven to 425 F. Grease four 6-oz. ramekins or three 8-oz. ramekins with non-stick cooking spray and dust with cocoa powder, tapping out the excess cocoa powder. This will help the lava cakes come out easily when inverted.

Step 2: Melt the chocolate and butter in a medium heat-proof bowl and set aside to allow it to slightly cool. You can melt the chocolate either on the stove or in the microwave.

   On the stove: Bring 2 inches of water to a low simmer in a saucepan over medium-low heat. Then turn the heat to low and place medium heatproof bowl of chocolate with butter on the mouth of the pot. Make sure that there is a gap of a few inches in between the bottom of the bowl and the water (You can also place a bowl on a steamer attachment on top of your pot). Stir the chocolate constantly as it melts. Stir until the chocolate is completely smooth and melted. This should take a few minutes. 

   In the microwave: The second way to melt chocolate (and an easier way) is in the microwave. Place the medium heatproof bowl of chocolate and butter into the microwave and microwave in 20 second intervals. Remove the bowl at each interval and stir well. Repeat until the chocolate has completely melted. Stir until completely smooth.

Step 3: In a medium mixing bowl, use an electric hand mixer or a whisk to beat together the eggs, egg yolks, vanilla extract, sugar, and salt, on low speed, until combined, about 1 minute.

Step 4: Pour in the melted chocolate into the egg mixture, along with the flour and protein powder. Use a rubber spatula and fold it in until fully combined. Note that the batter will be thick but should not be lumpy.

Step 5: Place the ramekins on a quarter sheet baking pan and divide the batter between them. Bake for 12-14 minutes until the edges look solid and firm. The tops will still be soft with a slight jiggle in the center. Do not overcook as overcooking will cause the center to completely solidify and not be gooey. If you are not sure how hot your oven runs, I suggest making one first to test. If it has solidified too much, then adjust the bake time lower. Mine turns out perfect at exactly 12 minutes.

Step 6: Allow the cakes to cool in the ramekins for 1 minute, then cover each with an inverted plate and use an oven mitt to flip them over and release the cakes onto the plate.

Step 7: Add toppings (such as a scoop of vanilla ice cream, dusting with powdered sugar, garnishing with fresh fruit, or a drizzle of salted caramel sauce or chocolate sauce). Serve immediately.